For this year's inaugural Cape Town Fringe Festival, the Baxter Theatre Centre and its Zabalaza Theatre Festival will showcase three dynamically different productions from 27 September to 4 October with three performances each.
The highly acclaimed 2014 Best of the Baxter's Zabalaza Theatre Festival winner, Khayalethu Anthony's The Champion, will be staged at the Galloway Theatre at the Waterfront Theatre School on 27 September at 2pm, 28 September at 4pm and 29 September at 7pm. Worst of Both Worlds, the 2012 Best of the Zabalaza Theatre Festival winner, can be seen at the City Hall 3 on 29 September at 11am, 30 September at 1pm and 2 October at 3pm. Another 2014 Zabalaza hit production Secret Flames is also on at the Galloway Theatre, on 30 September at 3pm, 1 October at 7pm and 3 October at 11am.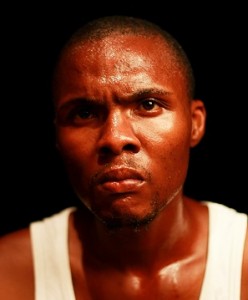 The powerful and moving story of The Champion, winner of the 2014 Zabalaza Theatre Festival Best Production award, is written and performed by Khayalethu Anthony and directed by Khayalethu Mofu. The one-hander, performed mainly in English with some Xhosa, tells the story of a young man who grows up without the presence of his biological father. As he grapples with the legacy of an absent father and a mother who is a grass widow, he witnesses different men coming in and out of their lives. Much of the play centres on the conflicts and contradictions inherent in him and the insights delivered about his mother's life choices. The Weekend Argus described his performance as follows: "Anthony's energy is exemplary and his timing masterful."
Anthony, who received the 2014 Naledi Best Newcomer/Breakthrough (Brett Goldin Award) for his performance in Lara Foot's acclaimed Solomon and Marion, certainly made his mark at the highly popular Zabalaza Festival in March. The Champion also received the Best Script accolade and Anthony was named Most Outstanding Artist.
NOTE: Following its performances at the Cape Town Fringe, The Champion transfers to the Baxter Golden Arrow Studio for a short season from 30 September to 8 October at 7pm nightly, with matinee performances at 11am on 30 September and 2 October, and at 2pm on 4 October. There is an age restriction of 14 years.
Worst of Both Worlds, the 2012 Best of the Baxter's Zabalaza Theatre Festival, written and directed by Bulelani Mabutyana, will take to the stage at City Hall 3. Featuring Thando Tsuselo and Lubabalo Nontwana, this cleverly-crafted two-hander played to great acclaim at the Baxter when it premiered. Performed in English and Xhosa, the play tackles the issue of human child trafficking head-on, using a unique and fresh style of physical theatre combined with strong elements of storytelling. The narrative deals with the journey of a girl who is abducted and trafficked at a young age, having to grow up under the slavery of prostitution and its implications on her life.
Audiences and media raved about the production. The Cape Argus gave it four stars and the Cape Times described it as "Potent and effective", while Die Burger simply said, "The Zabalaza Theatre Festival has delivered a worthy winner". Out and About agreed saying: "I sat riveted in my seat … though I have seen various productions at different theatres; none has touched me to my core as this one did."
The final production in the line-up, Secret Flames, was another hit at this year's Zabalaza Theatre Festival. Devised by the cast, Asiphe Lili, Sisipho Mbopha and Thulisa Mayalo, and directed by Sisipho Mbopha, the dynamic family drama focuses on two sisters who are held back by their past as they struggle with themselves, with each other and with life. They feel that they are unable to live their lives to their full potential. The only person who can set them free of this dilemma is their Mother, who carries with her burning secrets which are the cause of the family's unhappiness. She, however, is afraid that, once these secrets are revealed, her daughters will be irrecoverably hurt. Director Sisipho Mbopha received the 2014 Zabalaza Theatre Festival award for Best Newcomer for Directing.
TICKETS:  cost R70 and booking for The Champion, Worst of Both Worlds and Secret Flames at the Cape Town Fringe Festival can be made online, through the call centre on 086 000 2004 or any cash or card bookings can be made through the Fringe Box Office which will be open at the City Hall from 23 September.
Tickets cost just R30 for block-bookings of 10 or more, charities, fundraisers, schools and corporate bookings, and these can be made by contacting Monica Skota on 021 685 7880 extension 222, email monica.skota@uct.ac.za or speak to Ziyanda Mxcokozeli on 021 680 3980 or email her ziyanda.mxcolozeli@uct.ac.za.
WHERE:  for map of venues click here
PRODUCTION INFORMATION
THE CHAMPION
Presented by the Baxter Theatre Centre and Imbawula Theatre Company
Written and performed by Khayalethu Anthony
Directed by Khayalethu Mofu
Languages:  English and Xhosa
Duration: 70 minutes, no interval.
Venue: Galloway Theatre, Waterfront Theatre School
Performances dates and times: 27 September at 2pm, 28 September at 4pm and 29 September at 7pm
Ticket price: R70 and R30 for block-bookings of 10 or more
Age restriction: 14 years
WORST OF BOTH WORLDS
Presented by the Baxter Theatre Centre and UKAO
Written and directed by Bulelani Mabutyana
Cast: Thando Tsuselo and Lubabalo Nontwana
Languages:  English and Xhosa
Duration: 55 minutes, no interval.
Venue: City Hall 3
Performance dates and times: 29 September at 11am, 30 September at 1pm and 2 October at 3pm
Ticket price: R70 and R30 for block-bookings of 10 or more
SECRET FLAMES
Presented by the Baxter Theatre Centre and UKAO
Devised by the cast
Directed by Sisipho Mbopha
Cast: Asiphe Lili, Sisipho Mbopha, Thulisa Mayalo
Running time: 60 minutes, no interval
Languages: English and Xhosa
Venue: Galloway Theatre, Waterfront Theatre School
Performance dates and times: 30 September at 3pm, 1 October at 7pm and 2 October at 11am
Ticket price: R70 and R30 for block bookings of 10 or more
INFO: Cape Town Fringe