Artist and visual activist Saysay.Love is currently exhibiting new works at the S ART Gallery in Hout Bay. These figurative works captured in the oceans surrounding the Western Cape bring into focus concerns close to the artist's heart, namely, water and the preciousness thereof.
Saysay has been on a quest to bring awareness to the current water crises facing Cape Town and the Western Cape since his inaugural exhibition in Cape Town in 2017.
Saysay's works sit comfortably alongside the works of acclaimed artists Thonton Kabeya (Democratic Republic of Congo) and Bob-Nosa Uwagboe (Nigeria) who are exhibiting in the gallery.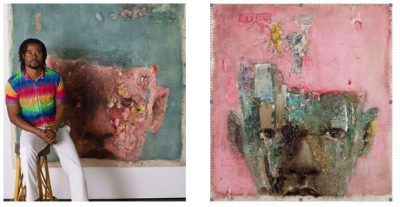 Thonton Kabeya was born and raised in Democratic Republic of Congo and currently lives and works in Johannesburg. A painter and sculptor, his work also includes installations, performance opera and various forms of design
S ART Gallery opened its doors in 2015 and is dedicated to exhibiting the works of South African and international artists.
WHERE: S ART Gallery, Victoria Avenue cnr. Oxford Street, Hout Bay, Cape Town 7806
WHEN: Closing 8 April 2018