Woman Zone joins the Artscape Women's Humanity Festival with the Humanity Walk on August 9,  Story Cafes on August 8 and 10, and a visit to Parliament to view the Keiskama Tapestry on August 10.
WOMEN'S HUMANITY WALK 2019 is part of Women's Day at the 13th Artscape Women's Humanity Festival.  This is about walking together to unite Cape Town and empower persons with disabilities.
NPO's and organisations encouraged to bring their banners. Men, children and persons with disabilities are all welcome.
The Walk will be followed by a FREE hour-long concert featuring performers from all of Artscape's departments.
WHEN: Friday 9 August, Women's Day 09:00 for 09:30 interfaith blessings
WHERE: Inside the Castle of Good Hope (entrance opposite the Grand Parade) and ending at Artscape Piazza around 11:30
There will be two STORY CAFÉ interactive workshops to which everyone is invited at the Woman Zone Library Hub, Artscape Ground Floor.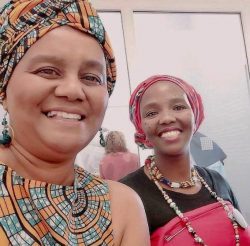 STORY CAFÉ hosts a Storytelling Workshop with Philippa Kabali-Kagwa and Nolubabalo Rani of Balisa Nathi Storytelling Collective.
Listen and share the magic of stories in a safe and inclusive space.
WHEN: Thursday August 8 from 17:30 – 19:30 RSVP: info@womanzonect.co.za or hipzone@mweb.co.za  Donation: R30
Acclaimed poet, writer and speaker Bulelwa Basse, founder of Lyrical Base Project, joins Story Café to host a Passion for Poetry afternoon with a poetry writing workshop, invited poets reading their works and a POETRY OPEN MIC.
WHEN:Saturday August 10 from 14:00 – 17:00  RSVP: believe.more.deeply@gmail.com Donation: R30
Invitation to Parliament for a tour of the extraordinary Keiskamma Tapestry on Saturday 17 August.
Join WOMAN ZONE on a tour of Parliament to see the extraordinary KEISKAMMA TAPESTRY. (See lead photo)
Created by over 100 women from villages in and around Hamburg, this 120m long embroidered panel tells the complex story of the Eastern Cape Frontier, interaction and development in the region. Having toured the country extensively, it has been seen as a homage to the people of the Eastern Cape and is now housed in Parliament.
LILA KOMNICK officer in charge of Artworks at Parliament will give us a guided tour of the Tapestry and other artworks, and share the stories around this remarkable piece.
WHEN: Saturday 17 August 10am – 11.30am
RSVP: Essential as numbers are limited to 15 only. Please book by 8 August with a scan of your ID and please bring ID book on the day. Cost: R40
WHERE: Meet one block down from the main gates in Plein St to enter at the service entrance between the two buildings called 90 Plein St (the old SARS building) and 100 Plein St. no later than 9.50.